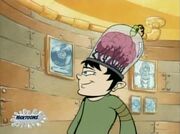 Braingel is a character from the one-time Nicktoons Network short, The Little Freaks.
Appearance
Edit
Braingel wears a green sweater with blue pants and sneakers. Also, he has a big brain on his head with a huge glass protecting it. Inside the container, a tiny root beer bottle with a part of a mace in it charges his brain which gives his IQ more power. He is of Asian descent.
Braingel is the un-official leader of The Little Freaks. He has an IQ of a combination of Thomas Edison (inventor of the light bulb), Alexander Graham Bell (inventor of the telephone), Guglielmo Marconi (inventor of the radio), and other inventors from the past years.