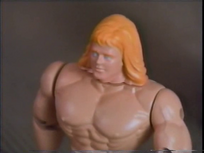 "
OUCHIES!
"
The Flesh is a superhero in the series Action League Now! who is dim-witted and usually never wears clothes at all. He is voiced by radio personality Jim Krenn.
Characterization/Personality
Edit
His personality is quite similar to that of Henry's - he is more smarter in Season 1 episodes but is more dimwitted in season 2 and up and is one of the main reasons of harm.
His figure basis was a Conan the Barbarian figure.
His figure originaly had no articulation in the head, but was modied to later in the series.
Ad blocker interference detected!
Wikia is a free-to-use site that makes money from advertising. We have a modified experience for viewers using ad blockers

Wikia is not accessible if you've made further modifications. Remove the custom ad blocker rule(s) and the page will load as expected.