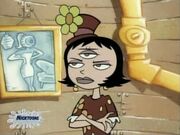 Tryla is a character from the one-time Nicktoons Network short, The Little Freaks.
Appearance
Edit
Tryla has three eyes and three eyebrows. Her outfit consists of a burgundy dress with orange daises and a burgundy top hat with a yellow daisy. She also wears double gold earrings and dark shoes.
Tryla is second in command of the Little Freaks. She is a fashion genius. She is the one with the most dialogue (the second is Braingel).
"Freaks! We gotta do something."
"The sheer fabric of self-expression is dangling by a thread."
"Besides, jumpsuits are an assault on a person's sense of self-identity."
"Aha!"
"Hey uhhh, where's Dubs?"